Increased Driving Distance Leads to Lower Scores!
There is a growing body of evidence showing that the old adage, "drive for show and putt for dough" could be changed to "drive for show AND drive for dough."
Take a look at the graph below: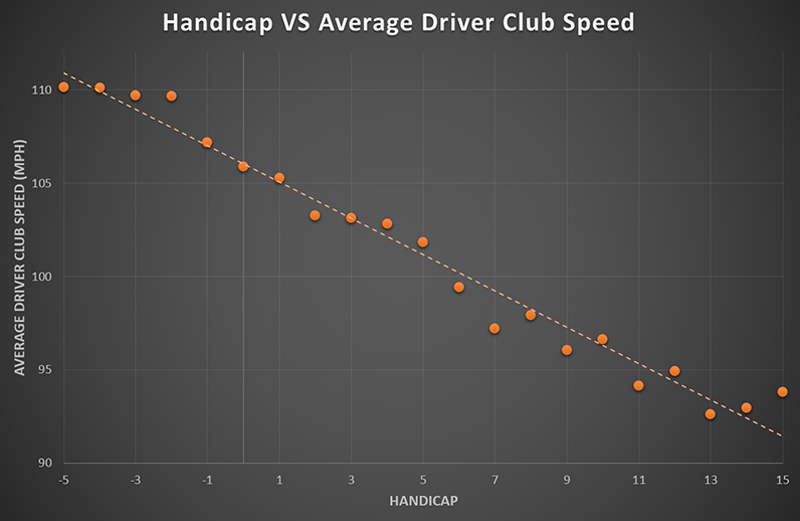 You can see there is a healthy correlation between clubhead speed and scoring. If you want you scores to go down, one way is to figure out how to increase your speed and driving distance.
A scratch golfer generally swings about 105 mph, while a bogey golfer swings closer to 90. If you're above bogey golf, say 90-105, its a safe bet you aren't driving the ball much over 220 yards.
Other old sayings that have been busted by the latest statistics are things like, "the trees are full of long hitters" or "long and wrong". Many golfers are scared that they would lose accuracy if they started hitting longer drives.
Actually the opposite has shown to be true! Studies show that golfers with higher swing speeds tend to be straighter as well. Because they are just better golfers. Sure you might have the occasional long and wild hitter – but mostly clubhead speed and driving distance are signs that the golfer is more skillful, and therefore have more control over the face of the club.
Historically, the last place that you'd expect to see driving distance creating the 'drive for dough' scenario is the PGA Tour. You see, as you reach 300 yards or more, the extra distance gained follows the 'law of diminishing returns', for a variety of reasons.
A drive of 340 yards will only have a meaningful statistical advantage over a 310 on a few holes per round.
And yet, the tour stats are bearing out that he who drives the longest takes the gold. Check these examples out…keeping in mind an average drive of 292.5.
18 players on the PGA Tour had a scoring average under 70. Their driving average was 302.6 yards.
87 players had a scoring average between 70 and 71. Average drive 294.8.
73 players had a scoring average between 71 and 72. Average drive 288.9.
12 players had a scoring average above 72. Average drive 287.6.
36 of 43 players who averaged over 300 yards per drive on the PGA Tour ended up gaining strokes off the tee.
These subtle differences for tour players become magnified as you go down the handicap chart. Golfers who shoot high scores will see the greatest benefit from hitting longer off the tee.
A golfer who shoots 95 could go into the 80's simply by driving about 30 yards further on average. I've seen it in my students many times.
So just some food for thought. While putting helps a whole lot, driving distance is a bigger factor in scoring low than most people think.