While the Erin Hills setup did not put a lot of stress on the leaders, Brooks Koepka should get credit for putting on an enormous run on the back nine to pull away without any doubts who the best player was that week.
I think the keys to his win were the relatively tame conditions around the par 5 greens.  Lots of closely mown chipping areas and not too severe bunkers allowed him to be in constant attack mode – even with a 3 wood coming in.  He had great chances to get up and down from missed greens giving him a huge advantage over the field for the week.  This is not a normal U.S. Open condition.
Here are some great looks at his golf swing from the week of the Open:

Koepka is what I would describe as a steep and out to in closed face fader.  This means he will generally launch his drives low and will therefore need more backspin to keep the ball in the air.
The Trackman numbers associated with this swing are below: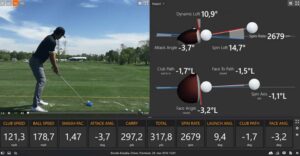 Here we see that Koepka is striking down 3.7 degrees on the driver and launching it at less than 10 degrees.  This means he will need more mph of clubhead speed to keep up with a more distance efficient Justin Thomas.  But at 121 mph, the need to for efficiency here really starts to diminish.  Tee shots averaging 320 are more than enough to overpower most golf courses.
The average golfer needs to hit up more and launch the ball much higher than this.  Strategically we will pick up many more strokes with the missing 20-25 yards than Koepka will.